Exclusive discounts at select partners
While JOON is a flexible benefit that can be used at any merchant that meets the eligibility criteria within your Categories Guide, JOON also forms partnerships with leading wellness and lifestyle brands to get you exclusive discounts. You will receive a monthly email newsletter with our latest partners and discounts.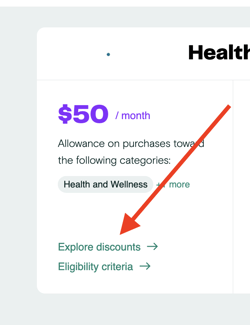 Within your benefits dashboard, click Explore discounts to see our full list of partnerships.
Please note two important facts:
Not all partners will be eligible purchases that count toward your allowance.

Discounts are not automatically applied when you make purchases at partner brands. You must visit our partnerships page to request discount codes to use at checkout or during the sign up process.